Tooth whitening (bleaching)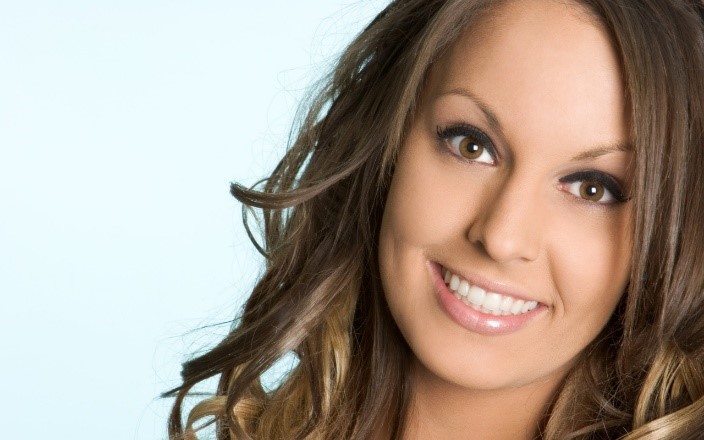 ---
Tooth whitening is one of the most popular cosmetic dental procedures. Modern dentistry today is about maximum preservation of tooth structure combined with excellent aesthetics. Teeth whitening alone or in combination with minimally invasive dentistry can give you the aesthetic look you want without having to have extensive work done like veneers, crowns and bridges. This procedure will not only give you a brighter smile but also a better self-image, more confidence and a younger / healthier appearance.
Before we start the whitening we will first asses your specific needs in terms of type of bleaching as well as discuss possible problems and options if you have front fillings, crowns or veneers.
---
We do two types of teeth whitening
1. Zoom Whitespeed (In-Office)
The above procedure will give you immediate results after treatment. An appointment for about two hours will need be scheduled. First we will take impressions for your bleaching trays and polish your teeth. We put a special protective covering over the gums to protect them. The bleaching gel (hydrogen peroxide 25%) is applied on the teeth as well as the Whitespeed LED Accelerator gets activated to enhance the bleaching process. This process will take 15 minutes and will be repeated three times.
Once finished we will provide you with your custom made trays that you can use for the ACP relief gel (Amorphous sodium phosphate) to reduce sensitivity if necessary and improve the strength and lustre of enamel. We also provide you with a take home bleach application to use if needed or to keep for later touch up and maintenance.
2. Opalescence (Home Whitening)
If you are a busy person and do not have time for a long appointment this option will suit you well by allowing you to whiten your teeth at your own convenience in a safe and customised way. To start the procedure we will take impressions of your teeth to make you customised bleaching trays and provide you with a bleaching kit containing 8 gel filled syringes with 20% Carbamide peroxide. The whole procedure on how to use the kit will get explained in detail as well as any questions you might have. Best results will be seen after 7-10 days although a slight difference will already be visible after about 2 days.
Throughout both procedures we will monitor you as well as schedule follow up appointments to ensure we achieve the best result for you. Guidance will be given regarding your diet and habits during the bleaching process.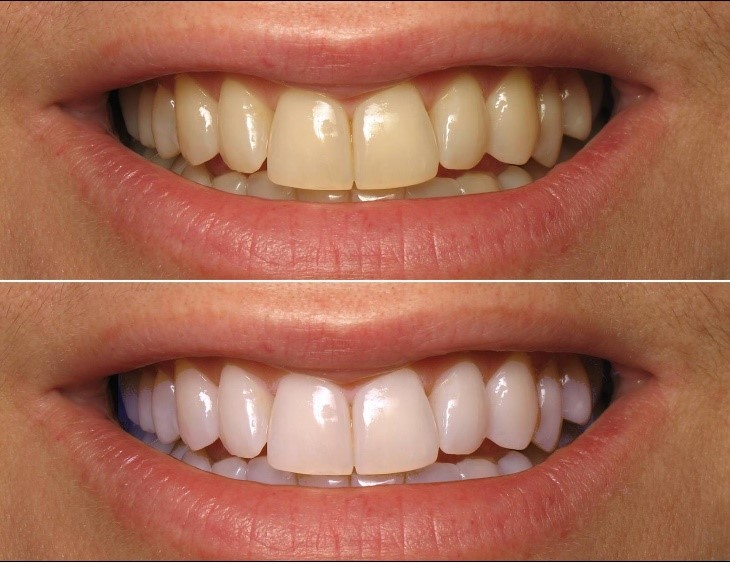 ---
Over the counter teeth whitening products:
Although these products is lower in cost and easier to purchase there is some disadvantages.
Gum irritation (Trays not custom made)
Damage to enamel (Product not used as prescribed)
Slower whitening process with less result
There are a lot of products available like: gel trays, strips, toothpaste etc. Please feel free to ask us for more information if you are not sure about a product.
---
Causes of tooth discolouration:
Dietary components – spices, food colourants
Beverages – coffee, Tee, Alcohol
Tobacco – cigarettes, pipe smoking
Mouthwashes – contains Chlorhexidine or ammonia
Medication – antihistamines, cationic antiseptics
Some metals – copper, silver nitrate
Patients on photosensitive treatment for cancer can be at risk
Trauma to teeth, ageing, fluorosis
Please be advised that the above is only a few examples.
Who will not be a candidate for bleaching?
Severe fluorosis or tetracycline staining
Full mouth rehabilitation with veneers, crowns or bridges
Pregnant and lactating mothers
Patient who is photosensitive or using photosensitive medication
Children With mixed dentition
---
Is teeth whitening safe?
Yes, clinical studies have shown it is safe for teeth and gums to use carbamide or hydrogen peroxide to whiten your teeth as long as it is done under supervision of a dental professional.
What are the side effects?
The most common is sensitivity to your teeth which will be treated with desensitising gels or toothpaste that contains either Amorphous calcium phosphate, Potassium nitrate or Sodium fluoride. The sensitivity is only temporary while bleaching.
How long will results last?
Depending on your dietary habits and smoking (if you do) as well as the natural process of ageing teeth can get discoloured again. We try to give our patients enough information on maintaining the bleaching for as long as possible and encourage them to do a one home session every 1-2 months to ensure a lasting effect.
Does veneers, crowns and bridges bleach?
No, If they are visible when you smile we will have to replace them after bleaching if they are darker. Sometimes they present lighter than the other teeth and then we will bleach the teeth to match them.