Sports Mouthguards
---
Have you ever thought of how it would feel if you lose one or more of your front teeth? By using a mouth guard you can keep your teeth and smile safe.
If you are participating in any contact sport or sports posing a risk of injury to the mouth it is recommended that you wear a properly fitted mouth guard. It will not only protect your teeth form getting knocked out or chipped but will act as a cushion against laceration and during head to head contact help to keep concussion to a minimum. Any of the above mentioned might sometimes be very expensive to treat and sometimes it is not possible to save a tooth, so take care of protecting them.
---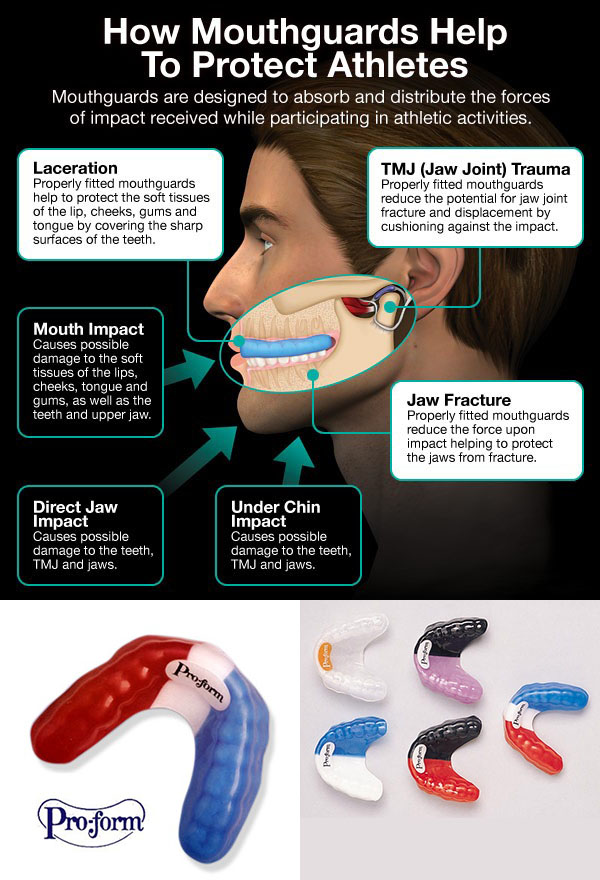 Choosing a mouth guard
There are three types of mouth guards:
The readymade mouth guard you buy at the shop.
The mouth-formed "boil and bite" mouth guard you buy from the shop.
The custom made mouth guard made by a dentist.
Generally a mouth guard will only cover the upper teeth. The first two mouth guards although cheaper will offer less protection and can be difficult to breeth and speak through. The third mouth guard will give you maximum protection and comfort because it is custom made for you.
If you want us to make you a mouth guard just schedule an appointment for an impression and choose your colours for your mouth guard to be finished with in one to two working days.
---
Caring for your mouth guard
Before and after each use rinse thoroughly with cold water or antiseptic mouth rinse. Keep it safe in a clean perforated container for circulation of air. Avoid high temperatures like hot water and direct sunlight which can distort your mouth guard.
Rugby
Soccer
Boxing
Hockey
Skate boarding
Wrestling
Martial Arts
Extreme Sports