Implants

Despite the improvement in dental care millions of people suffer tooth loss due to tooth decay, periodontal disease or injury. Previously the only treatment available for having missing teeth replaced were bridges or dentures, but now dental implants are available to make a huge difference in treatment options.
---
What is a dental implant?
Dental implants are the most advanced way to replace a missing tooth or teeth. In the areas where a tooth or teeth has been lost a replacement root most commonly made of titanium will be implanted into the jaw which will act as a root of a tooth. A replacement tooth will be fixed on it in a similar way as a crown. Although it is impossible to replace a natural tooth it is currently the closest you can get and patient reports said that it looks, feel and function like a normal tooth.
---
Who qualify?
Dental implants are suited for most adults with good general and oral health. Even patients with severe loss of bone in their jaw or several missing teeth, sometimes all will qualify for treatment. It might require a more complex plan but is still possible. Some health problems may prevent the use of dental implants but can be discussed with your physician. Gum disease will have to be addressed if present as well as heavy smoking and drinking. Generally implants will not be used on young patients until the jaw have stopped growing.
---
What is involved in getting a dental implant?
You will first visit your dentist and he will take x-rays and evaluate the tooth / teeth as well as health of the gum tissue to determine the viability of placing an implant with an appropriate treatment plan.
Then he will refer you to a specialist called a periodontist or maxillofacial surgeon for the removal of the affected tooth and placement of the implant which will involve the following:
Removing the affected tooth or teeth.
First if bone needs to be implanted (graft or augmentation) because of previous bone loss it will be done.
The implant is placed into the bone socket of the missing tooth.
As the jawbone heals it grows around the implanted metal post anchoring it securely in the jaw.
Now the dentist will fit a small metal pin in the implant upon which a crown, bridge or dentures matching the colour of your natural teeth will be fitted.
While you have to wait for the bone to fuse with the implant (osteo integration) a temporary tooth or denture can be worn over the implant.
The time required to complete the treatment differs from patient to patient depending on their specific problem.
---
Causes of failure, problems and longevity
A small percentage of implants fail shortly after placement but they can be replaced with another implant. Smoking and drinking can have an impact on the healing process after the implant procedure that can also lead to failure. Poor plague control around implants can play a vital role in implant failure. Crowns, bridges and dentures fitted on implants will need maintenance as they can wear like normal teeth. Grinding your teeth can overload implants and therefore you might need a grinding splint to wear at night.
Although it is impossible to give an absolute guarantee, implants can last many years and our aim is for you to have it for a lifetime. The nutrition, oral hygiene, genetics, disease (such as diabetes) of the patient can have an effect on the long term survival of dental implant.
---
Advantages of implant restorations
Improved appearance, speech, comfortability and eating.
Improved self-esteem.
Improved oral health.
Confidence when dentures are clipped in and not have to be removed or adhesives used to keep it in place.
Tooth saving by that implants do not sacrifice the quality of your adjacent teeth like a bridge does.
Implants support bone and prevent bone loss that can make your face look older.
---
How do I care for my dental implants?
It is important to understand that implant supported teeth need ongoing daily cleaning and maintenance just like normal teeth. The dentist or oral hygienist will be advising you on how to care for your implants. Routine maintenance, recall evaluations and x-rays will be necessary to insure the long life of your implant tooth. However failing to clean and go for regular check-ups may result in failures.
---
Types of dental implants
Single Tooth

This is when a single tooth has to be removed due to decay, fracture or being congenitally absent. A single implant will be placed in the space and fitted with a crown.
A single tooth replacement in the smile line of the mouth is potentially the most difficult to restore. This demands a special skill, knowledge and experience to recreate the soft tissue and bone profile, by way of grafting and soft tissue manipulation for the most natural and aesthetic appearance.
A few teeth missing

This is where a few teeth have to be replaced. The same care and protocol followed, as with a single tooth, will be followed by multiple missing teeth.
The most common cause of partial tooth loss is when the roots supporting a bridge start to fail. They will be removed and implants placed in the sockets to support a fixed bridge like you previously had.
A few teeth missing (Option I)

Two or more implants with special attachments or bars secured onto the new or existing denture to anchor the denture to the implant. It is especially good for an unstable lower denture.
A few teeth missing (Option II)

All-on-4 concept and protocol. This is when four or more implants in the upper or lower jaw is used to secure the new denture.
This denture is secured to the implants and can only be removed by the dentist. It has no plastic in the palate or flanges that press against the gum tissue.
This is the most stable and fixed option to replace all or most teeth in the mouth.Fantastic quality of life again.
---
Immediate loading (Dr Joubert's special interest)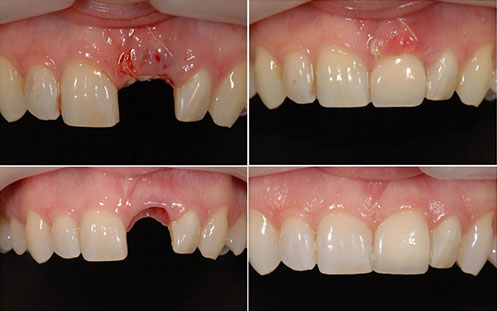 Immediate loading is a highly specialized protocol when teeth are removed, the implant is placed and the provisional crown is anchored to the implant all within 24 hours. Which means you are never without a tooth except on the day of surgery and then back to your normal life the following day.
This protocol can be pushed even further with the help of "Nobelclinician", a cad-cam program. With this cad-cam program, placement of the implant as well as the final crown or superstructure is pre-planned and manufactured to be placed and finalized all during only one procedure. That means never without any teeth.
Immediate loading obviously cannot be performed on each and every case for there are certain prerequisites. The viability of each procedure will be determined during consultation.
One of the benefits of immediate loading is that everything heal against the ideal crown shape from day one with minimal future disturbance. This usually provides the best aesthetic results. Especially in the highly aesthetic areas of the mouth – the teeth and gum showing in your smile.